India vs Australia 2020 – 2021: IND vs AUS T20, ODI and Test Series Live Score, Schedule, Squads and Stats
IND vs AUS | Schedule | Live Score | Squads | News | Stats
Full coverage of India vs Australia 2020 series (IND vs AUS) with live scores, latest news, videos, schedule, fixtures, results and ball by ball commentary. The India tour of Australia in 2020 includes three T20s, three ODIs and four Test Matches.
Add a header to begin generating the table of contents
Squads Lists for IND vs AUS Series
Both India and Australia go way back in the cricket history and their rivalry on the ground. Fans from both sides love to watch on ground battle between the two teams.
The Indian Squad against Australia hasn't been announced yet. We will update this space for all T20, ODI and Test Squads.
The Australia Squad against India hasn't been announced yet. We will update this space for all T20, ODI and Test Squads.
India vs Australia Series – 2020-21 Coverage
The India tour of Australia has been confirmed between October 2020 to January 2021 as part of the ICC FTP fixtures. The ODI series is part of the inaugural 2020–22 ICC Cricket World Cup Super League while, the Test series (to be played later in January 2021) will form part of the inaugural 2019–21 ICC World Test Championship. BCCI has also shown great interest in playing a Day/Night Test match during the series.
While the dates and venues are not confirmed yet, the India vs Australia (IND vs AUS) series is a bilateral series and both teams will play 3 T20s followed by 3-match ODI and 4-match Test series  later in Australia.
There are a total of 10 matches including 3 T20s, 3 ODIs and 4 Tests to be played during the India tour of Australia in 2020/21. The India-Australia bilateral series is a part of the Future Cricket Tour Programs (FTP) which has been prepared by the International Cricket Council (ICC), BCCI and Cricket Australia. India vs Australia 2020-21 schedule will be posted here as soon as it is announced with all details including date, timing and venues.
India Vs Australia – A Rivalry way beyond Cricket
The game of cricket is at its level best when two quality teams India and Australia face off regardless of venue and format. The excitement level is always high amongst players and fans whenever these two teams play.
There is competitive cricket, exchange of words and much more whenever these two teams meet.
India's first bilateral series was way back in 1947/48 which was won by Australia. Initially, Indian team wasn't winning many matches but later on they had developed as a unit after winning world-cups.
India vs Australia Test Cricket
Australia have got the better of India in test cricket with 42 wins out the 98 matches they have played, whereas India won on 28 occasions. The remaining 27 games have ended in a draw with one tie.
India has been dominant at home in the test format. They have 8 series wins in 14 series which were played in India. Since 2008 they have lost just one game against Australia in home soil.
It was against Australia, India won a test even after getting enforced a follow-on courtesy the partnership between VVS Laxman (281 runs)  and Rahul Dravid (180 runs). Harbhajan Singh took 6 wickets in the second innings ensuring a win by 171 runs.
India hasn't had much success touring Australia. They have played a total of 13 series away from home in Australia and managed to win just one series which eventually came last year (2019) under the captaincy of Virat Kohli. Kohli and his men created history by finishing the series 2-1 and becoming the first Asian team to win a series in Australia. Cheteshwar Pujara and Indian pace-bowlers were the architects for the series win against Aussies.
India vs Australia ODI Cricket
In total 140 played so far Australia have won 78 matches whereas India managed to win 52 (10 matches results didn't come out). In ICC World cups too Australia's record is far better than India.
Australia will remember the memorable victory against India in 2015's ICC Cricket World Cup. Australia put a mammoth 328 runs on board courtesy Steve Smith's more than a ball century well supported by Arron Finch's 91 runs.
In return to the target Indian openers were off to a decent start with 56 runs in the first 10 overs without losing any wickets. The dismissal of well set Shikhar Dhawan led to the vice-captain Virat Kohli in. The wicket of the star batsman Virat Kohli was the turning point in that match. They were a couple good starts from Rahane, Dhoni and Sharma but none of them stayed till the end. Eventually the entire team was all-out for 233 hence Australia won by 95 runs and ended up winning the trophy too.
India vs Australia T20 Cricket
India has a better record in T20I's than other formats. They have won 11 out of 20 matches played so far.
India and Virat Kohli won't forget that group stage match of World T20 2016 at Mohali. Australia put up a modest score of 161 runs on board. In return the openers got out early and then Virat Kohli came out to bat. He was at his peak throughout the year. The run chase was well planned with calculative risks. Virat took the team to victory with 5 balls left and scoring 86* of 51 balls.
India-Australia Relations (friends or foe)
Whenever we talk about rivalry in cricket we talk about Indo-Pak rivalry or the Ashes (ENG vs AUS) but India-Australia rivalry is unique in its own way. There has been controversies between the Indians and Aussies whenever they face-off in a world-cup or bilateral series and the intensity level is always high.
The Episode of Monkey Gate
The incident took place during the Sydney Test in 2008, in which Harbhajan was accused of calling Symonds a 'monkey'. Things became very worse when Australia wanted to boycott that series. Ponting and his men were very grilled during that tour after the episode of monkey gate. A decade after the incident, Symonds stated that he had closed the case three years later.
Both of them ended the controversy by playing for Mumbai in the Indian Premier League. Harbhajan, who had denied such remarks at the time, was imposed a three-match suspension. India however opposed it, following which the ban was lifted. At that time the cricketing relationship between India and Australia reached its worst phase.
DRS is Decision Review System not Dressing Room Review
It all happened in the Australia tour of India 2017,the second test when Steve Smith and his men were given a target of 188. Umesh Yadav bowled a full length hitting the pads of Steve Smith and looked plump. Umpire Nigel Llong straight away gave it out. Steve Smith walked down towards non-striker Peter Handscomb and then looked at the dressing room for assistance to ensure whether he had to take a referral or not.
According to ICC Code of Conduct – a batsman can consult only the non-striker to go for referral and not any other external sources. Virat Kohli caught Smith breaking the code of conduct and immediately informed the umpire. The umpire asked the batsman to leave. Later Smith admitted that he asked the dressing room for help which was wrong.
Virat couldn't play the series decider due to his shoulder injury. But India convincingly won the series 2-1 under the captaincy of stand-in skipper Ajinkya Rahane thus retaining the Border-Gavaskar trophy.
There were many controversies created by Aussies in that tour. Steve Smith on behalf of his team apologized to the team India and fans for their behaviour in that test series. Virat Kohli said that although the series was won they had lost the friendship amongst Aussies.
Virat Kohli showing the Spirit of game
During the ICC world-cup 2019, in a league stage match between India and Australia, Steve Smith had returned from a ban of sand-paper gate after a period of 12 months. When Steve Smith came out to bat the Indian fans were booing at him. Virat immediately went on to the boundary field and made a gesture to the fans to clap for him instead of booing him. This gesture was appreciated by both Smith and fans of cricket which clearly indicated that the relations of India-Australia was not that intense as we thought. Virat Kohli was awarded the ICC Spirit of game in 2020 for his positive gesture.
Australia play the aggressive style of cricket with pure sledging and dominance. In early 2000's Australia under the captaincy of Steve Waugh and Ricky Ponting were invincible for a decade's time. When Virat was given the captaincy in 2014, he and his team also adopted the same aggressive style of play. That's the reason why India has become the number one team in test format for a while now.
India vs Australia Upcoming Series: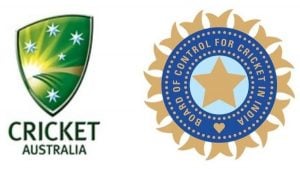 The India-Australia series in Australia is lined-up later this year. It will be a golden opportunity for India to win yet another series in the presence of Steve Smith and David Warner. It is a contest of number 1 and number 2, so we can expect yet another competitive series and hopefully may the best team win.
Update: The IND vs AUS Boxing Day Test could be shifted to Adelaide amid COVID-19 pandemic. Official announcement will be made later. We will have more updates on the 2020-21 tour of India to Australia on this page.
While all efforts are being made to hold the series alive, we might expect delay/postponement or cancellation altogether due to COVID-19 crisis in Asia and around the world. We will be updating this page for more updates about the IND-AUS series during coming weeks.
CricketSchedule offers schedule, live scores, latest news, squads and players info of the India-Australia (IND vs AUS) series. Stay tuned for more updates.
When does the India vs Australia series begin?
Both Australia and India will kick-off the series with three T20 matches in October. The 4-match Test series and 3-match ODI series, however, will be played during December - January period.
How many matches will both teams play?
Both India and Australia will play a total of 10 matches that includes 4 Tests, 3 ODIs and 3 T20s during October-January period. Warm-up matches are yet to be finalized.
Who is included in the Indian Squad?
The Indian squad against Australia hasn't been announced yet.
How long is the India tour of Australia?
India tour of Australia in 2020-21 consists of more than 50 days that will be in addition to the required quarantine period if decided by BCCI and Cricket Australia board. The tour will also consist of two visits by the Indian team to Australia, one in October and the other in Dec-Jan.
What are the series Venues for India vs Australia?
Due to COVID-19, matches are restricted to only few venues in 2020-21 at this time. All matches including T20s, ODIs and Tests will be played at Brisbane Cricket Ground, Adelaide Oval, Melbourne Cricket Ground, Sydney Cricket Ground and Perth in Australia.
How can I set free reminder for Match Timings?
You can set reminder through our match calendar which sets match timings according to your time zone. Users need to add match timing through Google Calendar (Android/Windows etc) and iCal Calendar in Apple devices.