India Cricket Schedule 2023 Match Dates and complete fixtures for upcoming T20, ODI and Test series
Complete India Cricket Schedule 2023 with fixtures of all upcoming cricket series of India during 2023 for T20s, ODIs and Test matches. India has a busy season this year in 2023. The India Cricket Schedule here lists all domestic and international cricket schedule for the Indian team including Ranji Trophy schedule, IPL schedule, bilateral and ICC tournaments schedules with multiple options to download the confirmed India Cricket Schedule in PDF and other formats. Let us take a look at the Indian team's FTP from the year 2020 till the 2023 World Cup here on this page in full details.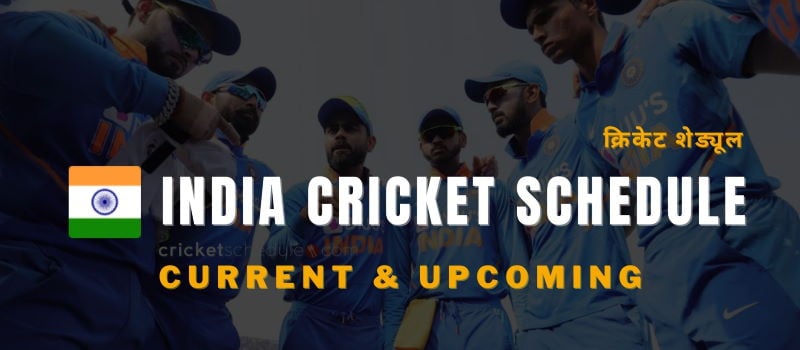 Current & Upcoming Series: India Cricket Schedule 2023 Full List
In the four-year cycle, the Indian team will be playing more than 200 days across all three formats both in India and away from home. Let us take a look at the Indian team's FTP from the year 2020 till the 2023 World Cup: India Cricket Schedule 2023 here gives you details of dates, venues and match timings given in GMT, EST and IST (India local time) for your convenience, errors excepted:
India T20 World Cup Schedule 2022
With its recent performance, India is one of the most favorites team in the T20 World Cup tournament this year. India is set to begin its T20 World Cup campaign right after completing the Asia Cup in September. After Asia Cup, Team India will visit Australia for the 2022 T20 World Cup.
India tour of Bangladesh 2022 [December]
Sri Lanka tour of India 2023 [January]
New Zealand tour of India [Jan – Feb]
New Zealand is set to tour India for a bilateral series consisting of 3 ODIs followed by 3 T20 matches. Both teams also play bilateral series few months ago when India toured New Zealand in November.
Australia tour of India 2023 [Feb-Mar]
Australia is all set to tour India in 2023 for ODI series. This is tentative bilateral series scheduled as per ICC FTP Future Tours Programme for India and Australia teams. Both teams will play four Test and three ODI matches but the series may extend to include T20 matches as well.
Legends League Cricket – LLC (March 2023)
Indian Premier League 2023 [Mar – Jun]
Followed by the Sri Lanka series, BCCI is hopeful to schedule the Indian Premier League between March and June 2022 in India. With the addition of 2 new more franchises, we are expecting some great action to witness. A mega auction is also due to be scheduled in January before the IPL tournament which will see a lot of shuffling of players.
ICC World Test Championship Final 2023
Asia Cup 2023
After playing multiple bilateral series and playing IPL, Team India will fly out to Pakistan (or UAE) where Pakistan will host the ICC Asia Cup 2023 in August – September 2023. This will be a long series as all the Asian countries will take part. India will feel comfortable as they will play against similar teams they played last year in the same event.
ICC World Cup Super League (CWC Qualifier)
ICC Cricket World Cup 2023
The ICC Cricket World Cup is part of the India Cricket Schedule where India will be hosting the ICC mega event in October and November 2023.
Indian players in 2023 T20 Leagues
*While these T20 leagues are not part of the India cricket schedule, we have included it here because most of Indian players participate in these T20 tournaments and leagues and are of great interested to cricket fans in general.
The Bigger Picture
What's next for the Indian Team?
The big question is not hard to answer anymore since we have cricket resumed with a hectic season ahead for Team India. With change in guards, India is all set for some exciting cricket in upcoming months with IPL, major ICC events and several bilateral series lined up in 2022.
As per 2022 India cricket schedule, the year begins with India's tour to South Africa for Test and ODI series. Next, West Indies will tour India in February for ODI / T20 series. Sri Lanka, Afghanistan and South Africa will also tour subsequently in the following months for bilateral series.
It's also green signal for the bigger IPL with 10 teams to go ahead this year. Indian players will play 74 matches this time around in an extended fixtures list of IPL 2022. The complete schedule will be announced by BCCI once all teams are finalized ahead of March/April start. With this year extension, IPL will have teams divided in 2 groups where all teams will play the opponent twice. Once confirmed, complete match dates will be updated here on India cricket schedule page.
Busy Season ahead in 2023
The Indian players have a busy season ahead since we have various ICC events and T20 leagues coming up as per latest India cricket schedule today. Major events that will be part of the India Cricket Schedule in the coming season include ICC T20 World Cup 2022, Asia Cup 2022, ICC Cricket World Cup 2023, IPL 2022 & 2023 and multiple bilateral series.
Top 2023 Series Scheduled this year (T20, ODI, Tests & IPL)
For the 2022, the team India cricket schedule has already been confirmed for 13 series in total. Ten out of thirteen series will be bilateral as listed below while the other three series including Asia Cup, T20 World Cup 2022 and IPL 2022. This makes the year the busiest of the players in recent time. While some ICC and bilateral series are of utmost importance, we might see key players missing few series that include India against Afghanistan and Zimbabwe.
In addition to series scheduled as per ICC FTP programme, BCCI has confirmed that it will honor all the missed or postponed series from the previous year. According to today's India cricket schedule, some important series this year includes series against, Australia, England, Sri Lanka, South Africa, Asia Cup, T20 World Cup and the Indian Premier League.
Australia tour of India [Feb 9 – Mar 22, 2023]
The India vs Australia bilateral series will take place from February 9 to March 22, 2023, as part of the Australia tour of India 2023. The tournament will consist of 4 Test matches and 3 One Day Internationals (ODIs) between the two teams. The matches will be played in different cities in India providing an opportunity for both teams to showcase their skills and compete against each other. The bilateral series will provide an exciting opportunity for cricket enthusiasts to witness the best of cricket between two top cricketing nations.
T20 World Cup 2022 (October-November)
Australia will be hosting the 2022 T20 World Cup in October and November. As per the India Cricket Schedule this year, the tournament is 2-month long series where Team India will be visiting Australia to play as part of the 45-match long tournament. For 2022 edition, India is placed in Group 2 along with Pakistan, Bangladesh and South Africa (plus A2/B1) on the Super 12 table. BCCI will be hoping to send a stronger team this time around to have better chances to qualify for the semi-final and final.
India in Inaugural World Test Championship Final
As per the latest points table of the inaugural ICC World Test Championship, both India and New Zealand have qualified to play the final match. The Final of the World Test Championship is now scheduled for June 18 to 22, 2021 to be played at Southampton's Ageas Bowl Stadium.
2023 India FTP Future Tours Programme (FTP) Schedule & Series List
India 2023 / 2024 Season FAQs
Learn more about India Cricket Schedule: