Full Schedule of India vs England 2023 cricket series (IND vs ENG) with live scores, latest news, videos, time table, fixtures, results and ball by ball commentary. England tour of India consists of five Tests. ODIs and T20 matches will be played later this year.
IND vs ENG – Upcoming Test Matches (Jan-Mar 2024)
Jan 25, Thu – Jan 29, Mon
India vs England, 1st Test
11pm EST (-1d) | 4am GMT | 9:30am Local
Rajiv Gandhi International Stadium, Hyderabad
Feb 02, Fri – Feb 06, Tue
India vs England, 2nd Test
11pm EST (-1d) | 4am GMT | 9:30am Local
Dr. Y.S. Rajasekhara Reddy ACA-VDCA Cricket Stadium, Visakhapatnam
Feb 15, Thu – Feb 19, Mon
India vs England, 3rd Test
11pm EST (-1d) | 4am GMT | 9:30am Local
Saurashtra Cricket Association Stadium, Rajkot
Feb 23, Fri – Feb 27, Tue
India vs England, 4th Test
11pm EST (-1d) | 4am GMT | 9:30am Local
JSCA International Stadium Complex, Ranchi
Mar 07, Thu – Mar 11, Mon
India vs England, 5th Test
11pm EST (-1d) | 4am GMT | 9:30am Local
Himachal Pradesh Cricket Association Stadium, Dharamsala
Please note that India vs England Schedule may be subject to change for any reason as may be required in the sole discretion of respective cricket boards including BCCI/ECB.
India vs England Schedule Download (PDF)
The PDF for India and England Time table and full schedule for T20s, ODIs and Tests is now available for download. You can now download the PDF file here and access it offline later.
Download IND vs ENG Schedule & Time Table PDF Online
India vs England Series / Tour Programs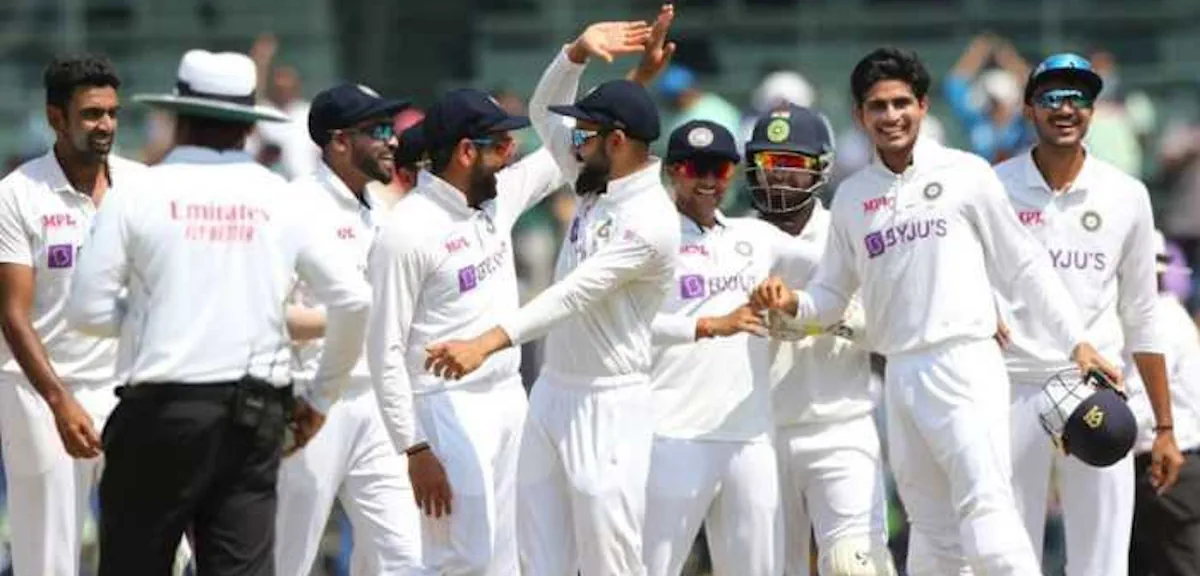 The India vs England Schedule 2023 has been confirmed with England tour of India for five Test matches during Jan-Mar next year. The ODI and T20 matches series will be confirmed at a later date with timing and the venue all posted here. The England vs India Fixtures 2023 has been officially confirmed as per ICC Future Tours Programme (FTP) and consists of Tests, ODIs and T20 matches. England will tour India ahead of the 2024 IPL season.
Below is the full India vs England schedule 2023 with complete fixtures and time table of all matches, dates, schedule PDF download, squads / players, venues and timing of matches in GMT, local and IST (India Standard Time).
India vs England Series – 2023 Coverage
Both India and England played 12 matches on England tour of India last year. India hosted England for 3 Tests, 4 ODIs and 5 T20 matches. Than later, India toured England for a 7-match bilateral series consisting of one-off Test, three ODIs and 3 T20s to be played at multiple venues.
The England tour of India has been confirmed in January as part of the ICC FTP fixtures. The fixtures is now announced where five Test matches will be played in India. Both teams will play ODIs and T20s later next year.
There are a total of five Test matches scheduled in 2024 with more matches to be announced by BCCI and ECB afterwards. The India-England bilateral series is a part of the Future Cricket Tour Programs (FTP) which has been prepared by the International Cricket Council (ICC), BCCI and ECB Cricket Boards. India vs England 2023 schedule has been updated with all details including date, timing and venues.
CricketSchedule offers schedule, live scores, latest news, squads and players info of the India-England (IND vs ENG) series. Stay tuned for more updates.
India vs England Rivalry
India and England are two top-level teams in international cricket. It is always an evenly contest whenever these two teams meet. The teams face each other every year either in a bilateral series or in ICC events. The upcoming Pataudi Trophy (England in India) is scheduled for February 2021.
IND vs ENG: Head to Head
India vs England in Tests
India played their first test against England in 1932. It was a 3-day match played at the home of cricket – The Lord's. England won the game by 158 runs. Initially, England dominated India in the test format. It took 20 years for the Indian team to register their first win against England. India and England have play 33 test series so far. India had its first series win in 1961-62. Ten years later, India won their first series in the UK. India rarely won in England as it took nearly 21 years to win a test series. India, under the captaincy of Rahul Dravid, won the series in 2007 against England at their own backyard.
India vs England in ODI's
The first encounter between India and England was played at Leeds in 1974. England turned out to be the winners of that match. A hundred matches have been played between the two opponents from which India has got better of England with 53 wins, and England has won 43 games. The remaining matches have been tied (2) and washed out due to rain(3).
India vs England in T20's
Since the T20 format was developed in the 21st century, the first Ind vs. Eng match was played in 2007. India and England have an equal number of victories and losses of 7-7 each. There is a tough level of competition between the two sides in this particular format.
India vs England in World Cups
India and England have faced each other on 8 occasions in the ICC Cricket world cup from which England has won 4 matches, India won 3 matches, whereas one match ended in a historic tie. This tied game was in the 2011 world Cup in India. England chasing a target of 339 ended up falling short by 1 run. Captain Andrew Strauss's 158 was the turning point in that match.
In 2021, England team will be visiting India for bilateral T20, ODI and Test series. The England team will also to participate in the 2021 T20 World Cup in India to be hosted by India this year.
Key Facts about England vs India:
Fred Trueman has the best bowling figures 8-31 in all the test matches played between India and England.
James Andreson has 99 wickets against India which is the most against any opposition.
Sachin Tendulkar has scored the most number of runs in India vs England encounters. He has scored 2535 runs in a span of 22 years.
Virat Kohli's only failure tour was against England in 2014. He averaged just 13.40 in 10 innings. He was undergoing a lean patch and questions were raised on technique.
India won their champions trophy in 2013 against England at their own backyard. They defended a modest total of 129 runs in a revised match of 20 overs. After winning that champions trophy MS Dhoni became the only captain to win all three ICC titles.
India vs England series is named as Pataudi trophy dedicated to the Pataudi family. Iftikhar Ali Khan Pataudi is the only player to have played for both India and England.
India Vs England memorable matches
Natwest Final 2002 – the best ODI ever
India's most memorable ODI match was the Natwest Final in 2002 against England. England team, batting 1st posted a mammoth score of 326 runs. While chasing India was struggling at 146-5. Later Mohammed Kaif and Yuvraj Singh stitched a match-winning partnership. Eventually, India won the match by 2 wickets with 3 balls left. Mohammed Kaif was named the man of the match and India eventually won the Natwest Final.
Sourav Ganguly was the happiest captain. He had lost hope when the team was stranded at 146 for 5. He said -"I never believed we could win but then Yuvraj and Kaif did wonders for us during that period. Lot of other games, not just that final. I remember after we came back from England, we played the Champions Trophy in South Africa, and again against Zimbabwe in the first game we were 50 for 5. And those days Champions Trophy was a knockout tournament. From that position Kaif got a hundred and India won. Then we beat South Africa, England and then went on to the final."
When India won the match, skipper Saurav Ganguly at the lord's balcony took his shirt off and started rolling it in joy. He expressed his joy in an interview saying – "Madness (taking off the shirt at Lord's balcony). It was just happiness. We had never won a final up until then. We had lost 3-4 finals before that. Then we came here and we were down and out. 146 for 5 and the game was over. One wicket and we would have been done."
Yuvraj Singh hits 6 sixes in six balls off Stuart Broad
In a match T20 match between England and India, Yuvraj Sigh and Stuart Broad were grilled up. There was an exchange of words between the two. Yuvraj Sigh being a Punjabi possesses the aggressive style of play. In the 19th over of the match, he smashed all the six deliveries off Broad outside the boundary rope all over the park. He ended up scoring 58* from just 16 balls with 7 sixes and 3 fours.
He later signed a jersey for him (Broad) off the field. On his recall of that moment, he said – "His dad, Chris Broad, is a match referee and he came up to me the next day and said 'you almost finished my son's career and now you need to sign a shirt for him',"
"So I gave my India jersey and wrote a message for Stuart saying, 'I have been hit for five sixes so I know how it feels. For the future of England cricket, all the best'. Stuart is one of the best bowlers in the world now. I don't think any bowler from India could get hit for six sixes in an over and then have such a fantastic career," he added.
To conclude, both the teams are very strong at their home. India although rank above England in the ICC men's ranking, they haven't won a series in the UK for quite some time now. There were a lot of expectations on Kohli and his men to win against England at their own backyard when they toured England in 2018. But they ended in a miserable defeat of 4-1 despite Kohli's brilliance.
After a lean patch in 2014, Virat Kohli compensated by scoring mammoth runs for the team in the India Tour of England in 2018. Averaging 59.30 Virat scored 593 runs, thereby showing the world that he was capable of playing in the swinging conditions. But unfortunately, his runs didn't contribute to the victory as India lost that series due to wrong planning and bad team selections.
England on the other hand is also a strong team at home but when they tour the subcontinent they struggle a lot. They had lost a test series 4-0 when they toured India in 2016/17. They will have a long tour of India from Feb 2021 which will be very important for the young England batsmen to prove that they are capable of the Asia pitches. Their top-order batsmen lack the experience of playing in the Indian subcontinent.
India vs England Series FAQs
When does the IND vs ENG series begin?
Both India and England will kick-off the series with their first Test match in January next year.
How many matches will both teams play?
Both will play a total of 5 Test matches that will be played in India when England will tour the host in January. Warm-up matches are yet to be finalized.
What are the series Venues for India vs England?
England is set to tour India where 5 matches will be played at Hyderabad, Visakhapatnam, Rajkot, Ranchi and Dharamsala.
How can I set free reminder for Match Timings?
You can set reminder through our match calendar which sets match timings according to your time zone. Users need to add match timing through Google Calendar (Android/Windows etc) and iCal Calendar in Apple devices.
Learn more about India vs England Series:
Team Information on India Cricket Wikipedia | England Cricket Wikipedia
Learn more about India / England Teams, see blog
Follow your team fixtures on Cricketschedule.com
Follow IND vs ENG updates on Twitter